5 1/4" Benthic Passive Subwoofer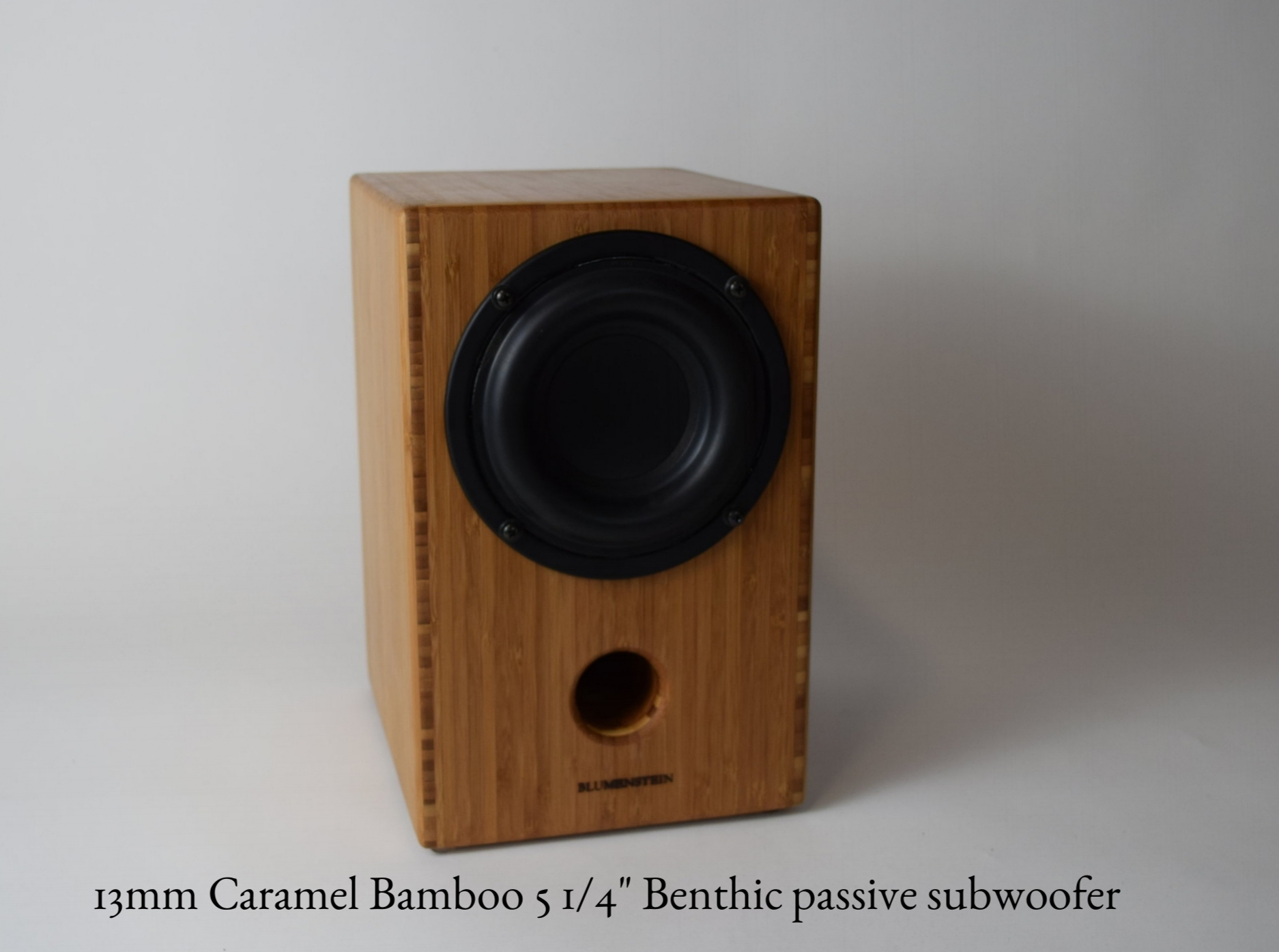 5 1/4" Benthic Passive Subwoofer
The Benthic is the ultimate super compact and lower power subwoofer model. Flexible by design, our passive subwoofer design facilitates flawless sonic integration with the Marlin, Orca, Triton, or Octopus speaker models.
Passive Subwoofers are acoustically clear of any smear or drag to the mid-bass and lower midrange because of the dead weight of a subwoofer amp chassis is missing. A huge benefit to passive subwoofers in general is that they can be hooked up to any commercially available subwoofer amplifier via the binding posts on the back of the enclosure.
We recommend supplementing your Benthic Subwoofer with the Outboard Subwoofer Amplifier and Anchor Chain cables.
Specifications
11 3/4" x 6.5" x 8.75"

Passive subwoofers are compatible with any external subwoofer amplifier including the Outboard Subwoofer Amplifier models.

~34hz response on the low end. High-frequency roll off is set by the external subwoofer amplifier to mate with the acoustic roll off of the full range speaker.

works well in either small rooms or large spaces

Can be networked into 4 pair arrays of subwoofers off of a single subwoofer amplifier

Selection of any cabinet material will yield nearly identical acoustical qualities due to internal bracing
Subwoofer Testimonials
"I visited the Blumenstein Audio [listening room]. I got to hear their Orca fullrange and sub speakers on their reference tube amp as well as on a pair of Bottlehead monoblocks. Simply amazing. Detailed, excellent clarity, natural tone, holographic and fantastic imaging. If you live in Washington state you should look them up . . . The owner and staff are welcoming and for those of us new to the speaker world such as myself it was great to tap into their knowledge about set-ups/positioning/tubes."-John, Seattle, WA on Hi-Fi Forum
"I'm the proud owner of a pair of Blumenstein Audio's Orca speakers and matching subwoofers. Since getting bit by the "audio bug" nearly 20 years ago, I've owned many different high-end speakers employing radically different design approaches, including electrostats, sealed box designs and others. Some of these have been substantially more expensive than the Orcas. But for me nothing has compared to the sound of these Orcas. They have the uncanny ability to sound fast, warm and detailed all at the same time, even at low to moderate listening levels. I could go on and on about the sound, but there is no substitute for simply auditioning them for yourself. The Orcas sound great without the subwoofer(s), too, if space and/or budget are an issue. A huge bonus is the appearance -- especially important if, like me, you use the speakers in a living room or similar space. They are properly viewed as an artisan product, enjoying an attention to detail paid to few other speakers (and, indeed, few other pieces of furniture). Put simply, you'll be happy to place them anywhere in your house. It's also worth mentioning that Clark B. and his staff are terrific people, too, so this is a company you can feel good about supporting. I'm using the speakers with a low-powered tube amplifier (this combination is particularly sublime), but I've also heard them sound excellent with solid state amplifiers." - Blake M-D, Seattle, WA
"I first found Clark when I was looking for some higher efficiency speakers to pair with a low-powered tube amplifier. From my first inquiry through every purchase since, they have been nothing short of wonderful. Admittedly, I can be a difficult customer...I ask a million questions and my standards for the finished product couldn't be any higher. I own a pair of Orca loudspeakers, a pair of Dungeness subwoofers, Blumenstein speaker cable, desktop stands, and amplifier bases for my Bottlehead electronics. The quality of all of these items has been first-rate. I can attach all the usual superlatives to the sound of these speakers, but for me the real story is the amazing customer service and attention to every detail. When I received my latest amplifier base it appeared that they decided to move to slightly different isolation feet. They not only included the proper number of feet for the base they just shipped, but they sent me enough feet for the two other bases they had made me over the past months. It is hard to find this kind of commitment to an excellent purchase experience!" - John R., Indiana
The Benthic's Compatibility With Blumenstein Speakers
Full range speakers have unique needs in terms of mating to any kind of subwoofer - active or passive. By mimicking the hookup methodology and cabinet construction practices for the sake of pure acoustics, putting large format passive subwoofer type performance into a smaller, compact, real-world package, attaining the kind of performance and seamless sonic integration from a compact unit. This subwoofer is designed for great bass at any volume level - even extremely low volume levels. This is by virtue of their unconventionally small paper cone subwoofer driver that has been taken to the extremes in terms of cabinet rigidity and carefully tuned acoustics.
All this combined effectively addresses the common issues of poor subwoofer sound quality by considering that subwoofers are important speaker enclosures in and of themselves, even though they are only covering the one or two octaves that the full range speakers (Marlin, Orca, Triton) don't cover. Furthermore, the specific models of outboard subwoofer amplifiers offered fully support the sound quality possible from this passive subwoofer with the full range speaker models (listed separately).